We are glad to let you know that our new printed book, the Journal of the OBC Annual of Articles 2014 is available from www.lulu.com.
They will send the book directly to you. We have set a price of £8.00, around $12. (Lulu sets their own postage charge). Buying the Annual from Lulu will provide the OBC Journal close to £3, (approx. $4.50), per book to help cover other costs of the Journal, and continue to make the Dharma available to our Sangha.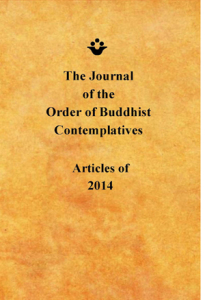 More information on this is on our Annual page.
We offer this in response to requests from some of you and hope you like it. If take-up is good, it will become an annual event.
Let us know what you think.
Best wishes, Rev. Alina & Rev. Berwyn