2016 Annual of articles
We are pleased to announce that our third Journal of the OBC Annual of Articles is now available as a printed book from www.lulu.com
We hope you enjoy the new edition. It contains all the articles from the digital journals of 2016, a wide range of teaching and reflections on Zen practice, written by monks and lay practitioners.
It is available for £8 plus postage charge from Lulu www.lulu.com 
Search for;  2016 Annual Journal of the OBC
Your purchase provides the OBC Journal close to £3, (approx. $4.50), per book to help cover other costs of the Journal, and continue to make the Dharma available to our Sangha.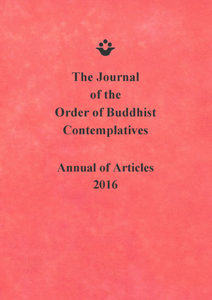 We are glad to be able to offer this printed form of journal articles. Copies will also be available for sale in the shop at Throssel Hole Buddhist Abbey and Shasta Abbey.
---