2016 Annual of Articles
We are pleased to announce that our third printed Journal Annual is now available. This paperback book contains all 23 articles from the digital Journal issues in 2016. These cover a wide variety of reflections and teaching on aspects of practice written by monks and lay practitioners.
It is available for sale at £8 plus post and package.
To purchase a copy, please go to  http://www.lulu.com/shop
Select your country of origin at the flag icon on the top bar, then in 'store' enter
Journal of the OBC 2016 Annual
 
2015 Annual of Articles
Our second printed book, the 2015 Journal of the OBC Annual of Articles is now available from www.lulu.com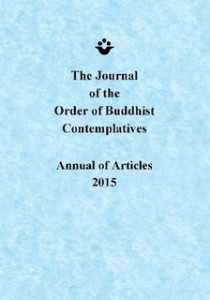 The first issue was popular and we hope you enjoy the new edition. It contains all the articles from the four digital journals of 2015, a treasure of teaching and reflections on a wide range of Zen practice, available for £8. Lulu send the book directly to you and add their own postage charge.
Your purchase of the Annual from Lulu also provides the OBC Journal close to £3, (approx. $4.50), per book to help cover other costs of the Journal, and continue to make the Dharma available to our Sangha.
We will post the cover and content of our new book soon.
We are glad to be able to offer this printed form of journal articles. Copies are or soon will be available for sale in the shop here at Throssel and at the shop at Shasta Abbey
---
2014 Annual of articles
Preview of contents below:
Old Questions on Karma: News from the Council of Patna, Rev. Master Daizui MacPhillamy            
Form and Pure, Fer de Denken
Undertaking Great Compassion Without Delay, Rev. Master Oswin Hollenbeck
Rev. Master Jiyu speaks of Ceremonial, From 'The Wild White Goose'               
Why do Ceremonial?, Rev. Master Meian Elbert
Twelve Points concerning Ceremonial, Rev. Master Oswin Hollenbeck
Thoughts on the January Sangha Retreat, Jenny Rookes
The Question of Meaning, Rev. Berwyn Watson
The Wisdom of an Open Mind, Rev. Jishin Kinson
Layered Karma, Rev. Master Meiten McGuire
Erudition, Jan Reed
The Dharma as a Tool for Everyday Life, Rev. Master Seikai Luebke
Reflecting back on Relationships, Rev. Alina Burgess
Some thoughts on Gratitude. Rev. Oriana LaChance
The Truth speaks for Itself: It sings Its own song, Rev. Master Myōhō Harris
What part does ambition play in the spiritual life?, Paul Taylor
Adapting to Conditions. Rev. Master Kinrei Bassis
Beginners Mind. Neil Rothwell
How do I Know I'm right?, Dan Brodribb